Solitron Devices announces new 1200V IGBT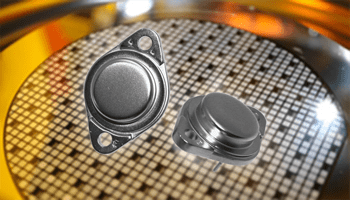 West Palm Beach, FL – May 31,2017.  Solitron Devices announces the SD11428, a 1200V IGBT with integrated Silicon Carbide Schottky barrier diode.
Packaged in a low profile, <0.300 high, TO-3 'Co-Pack'; this robust IGBT/Schottky combination is ideal for high reliability, high density applications including AC motor drives, uninterruptible power supplies, switched-mode and resonant-mode power supplies, inductive heating, pumps and fans.
Solitron's 'Co-Packs' combine functions such as MOSFETs, IGBTs, and Schottky diodes into a single package and offer the ultimate in space savings, efficiency and reliability.  Reduced component counts and interconnects, improved thermal performance and reduced inductive coupling are a few of the advantages of 'Co-Pack' technology.
Compound semiconductors such as silicon carbide (SiC) are quickly emerging as the ideal successors to silicon, meeting the need for higher efficiencies and power handling capability demanded in today's power applications.  Representing the next generation of high bandgap semiconductor technology these power devices far exceed the performance of their silicon counterparts with higher breakdown voltage, faster switching speeds and lower resistivity.  Higher switching frequencies allow reduction in the size of components like inductors, capacitors, filters & transformers.  Operating at temperatures in excess of 200°C make Solitron's SiC solutions ideal for space constrained harsh environment applications.
---
ABOUT SOLITRON DEVICES
Headquartered in West Palm Beach, FL USA, Solitron Devices manufactures power semiconductors and integrated power solutions for systems that demand the ultimate in performance and reliability.  Customers in aerospace, defense, industrial and space rely on Solitron's innovative products to develop smaller, lighter weight, higher efficiency systems level power solutions.
Certified to MIL-PRF-19500 and MIL-PRF-38534 Solitron offers a variety of standard QPL bipolar transistors and JFETs.  Solitron's high power, multichip modules combine the latest in silicon, silicon carbide and GaN with advanced packaging materials to achieve cutting edge power density and performance.  Capabilities include both standard and custom solutions delivered with industry leading quality, service and support.
Editorial Contact: Jack Worthen – 561-848-4311